Honza Lukavec

First tenor from September 1999 to September 2001.
Lenka Krausova
Soprano from September 1999 to October 1999.
Tomas Hruby

First tenor from September 2001 to September 2002.
Misa Petrickova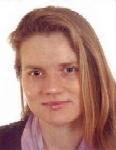 Soprano from September 2002 to July 2003.
Dan Pikalek

Bass from September 1999 to December 2005.
Lenka Horakova

Soprano from September 1999 to August 2007.
Jirka Havelka

Bass from January 2006 to August 2007.
Veronika Sussmannova

Alto from September 2004 to April 2005 and from March 2007 to August 2007 (the substitute of Manca).
Gabina Diepoldova

Soprano from November 2007 to February 2008.
Marek Jonas

Bass from November 2007 to April 2008.
Zdenek Cermak

Bass from June 2008 to April 2009.
Jakub Renner

Tenor from September 2002 to April 2011. Now abroad for couple of years, we hold his place for him.